Education is a crucial aspect of a child's life. It helps a kid develop the knowledge and skills necessary for surviving and thriving in a complex society. It also shapes and helps them gain traits that could eventually define them. Children cannot flourish and grow without education, whether from at-home learning or enrichment classes in Singapore.
Due to the significance of education, I decided to sign my toddler up for classes at a learning centre in Singapore. But I did not pick the typical education facility that uses traditional teaching methods—I opted for a learning institution that uses the Heguru education method that focuses on critical and creative thinking.
How I Learned About Heguru Education
I discovered the Heguru technique in Singapore after talking to a friend and fellow parent who helped me adjust to motherhood since I gave birth to my young one. She has a child attending Heguru education classes at the Heguru Method—a renowned facility offering Heguru or right-brain training lessons in the city-state. She told me about the perks she and her kid have reaped from the institution, urging me to check out the centre and understand its programmes.
According to my friend, the Heguru Method in Singapore focuses on enhancing a child's creativity and critical thinking. Its programmes can help students develop a photographic memory, holistic reasoning, improved mental speed, and enhanced visuospatial abilities. Heguru education can help kids gain better linguistic skills, making them more capable of expressing themselves and understanding others.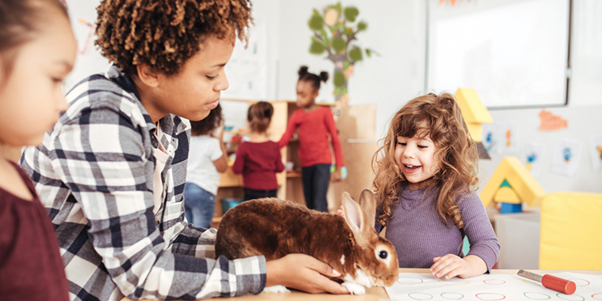 4 Ways I Prepared My Child For Heguru Education
Like signing kids up for other enrichment classes in Singapore, enrolling in a facility that uses Heguru education requires preparation. Helping children feel ready for their lessons will keep them from feeling overwhelmed and anxious about attending school. Scroll through to learn how I prepared my little one for Heguru education.
1. I Learned As Much As I Can About Heguru Education
Before signing my child up for lessons at the Heguru Method in Singapore, I researched as many details as possible about the learning technique. Doing so allowed me to set realistic expectations about the Heguru Method lessons and see if such classes suit my kid.
2. I Did A Few Heguru Education-Appropriate Activities At Home
Weeks before her first day at the Heguru Method, I did a few activities with her at home that could be similar to what she will experience at the Heguru learning centre. These activities introduced her to what she will do during her classes and helped keep her from feeling overwhelmed.
3. I Socialised My Kid With Children In Our Neighbourhood
Since my kid will likely be around other people while taking Heguru education classes, I decided to help her become more friendly by socialising with the neighbourhood kids and their parents. Some of them even became her classmates in the Heguru Method.
4. I Took My Child To My Chosen Heguru Education Facility
Before my child's Heguru enrichment classes started, we took a trip to the Heguru Method to familiarise her with the facility. Doing so may have prevented her from feeling anxious on her first day as a student of the Heguru Method.
If you are looking for a facility that uses Heguru education, I highly recommend the Heguru Method and its right-brain training programmes. Check out its website to learn more about its lessons that will help your kid become more imaginative, develop photographic memory, and gain holistic reasoning skills.